Performing Arts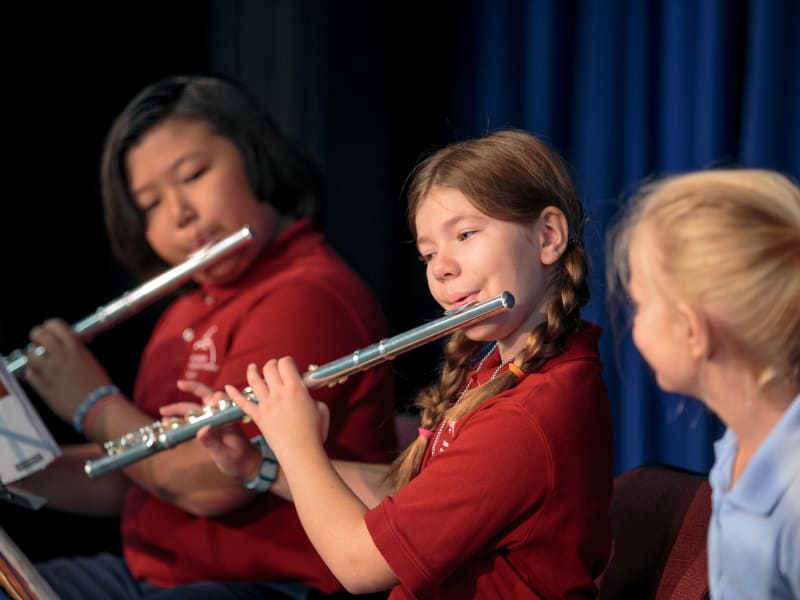 Our students feel like stars because they have a chance to shine!
Whether it's performing on stage for one of our theater productions or singing full force to the entire school, our students have multiple opportunities to act, sing, dance and play instruments from the earliest grades.
The performing arts experience at ACDS establishes a comfort with public performance that is later reinforced and refined when our students deliver oral presentations in classes, and in Middle School when they take elective courses to satisfy our speech and debate graduation requirement. Our performing arts program develops proficiency and confidence in public speaking, which we believe is a critical skill set for ACDS students to obtain.
Theater Arts
There is an excitement, energy and passion that swirls around the ACDS auditorium every time a grade performs a play. Whether it's the veteran fifth grade students confidently striding across the stage or the sweetest first grade children staring into the crowd, the transformation that takes place in our students is palpable.
The theater arts program has been an ACDS showcase since the school's founding in 1982. Every elementary student participates in a musical theater performance in front of a live audience each year. With daytime and evening shows, that's 20 performances on our stage annually, not counting productions by our middle school theater arts electives.
And what's more, our shows are fantastic! Parent volunteers provide costumes and our middle school students assist with set design, lighting and sound.
Considering the age of the performers, ACDS plays are remarkably advanced. But our theater arts faculty — consisting of two teachers — is committed to the principle that no performance is more important than a child. The teachers put the children first, making them believers in themselves through the confidence-building and joy that are the most important outcomes of our performing arts program.
From a neurodevelopmental standpoint, active participation in theater arts stimulates multiple dimensions of the growing brain: memory, as a child learns a part; language, exercised through reading and expressing; spatial and gross motor skills as children learn how to move about the stage and are introduced to dance choreography; and of course, creativity, activated when children take someone else's words and movements, and add their own flare, sharing and shaping their own unique creative self.
Every ACDS elementary student has a role in the class play; we have no auditions and no cuts. The directors often create lines or additional scenes to make sure all the characters have a presence on the stage during the show. The theater arts faculty's aim is that during a child's time onstage at ACDS over the years, every student will have a chance to be a star. Indeed, our alumni tell us that the opportunity to perform in a full–length annual musical show is a life-shaping experience that they treasure among their school memories.
In our experience, no matter what the initial level of confidence a child brings to the stage, after performing in ACDS plays, students feel empowered to do anything.
Contact ACDS for this year's performance schedule, and we'll see you at the show!
Music
From Preschool through 8th grade, the ACDS Music program is designed to help children discover their gifts and experience the excitement of music composition, history, theory, and performance.
Music at Almaden Country Day School is fun, engaging, and magical.
Our littlest ones enjoy Musical Movement
In Musical Movement, Early Childhood Education specialists engage our youngest children with fun lessons incorporating rhythmic patterning and exercise to build coordination, muscle tone and motor skills.
Making music in Elementary School
In Elementary Music class, children learn and practice a range of vocal ensemble pieces, and have opportunities to share their soloist and instrumental talents on a weekly basis.
Lessons in music theory, history and performance are shaped with the goal of making music a joyful part of students' lives. Children have daily opportunities to make music together, featuring methodology from the Orff music program that combines movement, instruments, theater arts, speech, and song.
ACDS also offers after-school music activities including ACDS Youth Choir, a choir for students in grades K-4 and ACDS Upper Choir for students in grades 5-8. These groups perform in school concerts.
Finding the beat in Middle School
Middle School students can take their musical talents to the next level through a variety of electives. In addition to the annual Middle School musical elective, other Middle School music options vary each year and have recently included So You Think You Can Sing, in which students worked on vocal technique and built their singing repertoire and Garage Band where students learned to play cover songs on various instruments.
ACDS Band
The ACDS Beginner and Intermediate Bands give Elementary and Middle School students the chance to perform in concerts for the school and ACDS community, learning and extending their skills with coaching from professional musicians.
This before-school program gives children the opportunity to learn flute, clarinet, saxophone, trumpet or percussion.
There are three levels of band available: ACDS Band, Intermediate Band, and Advanced/PEP Band.
For ACDS Band, there is no experience necessary, only a willingness to learn while PEP Band offers older/experienced musicians the opportunity to lead the student body in raising school spirit and cheer.
Come discover your rhythm with these enthusiastic groups!
Upcoming Performances
We welcome you to join us at one of our upcoming performances!