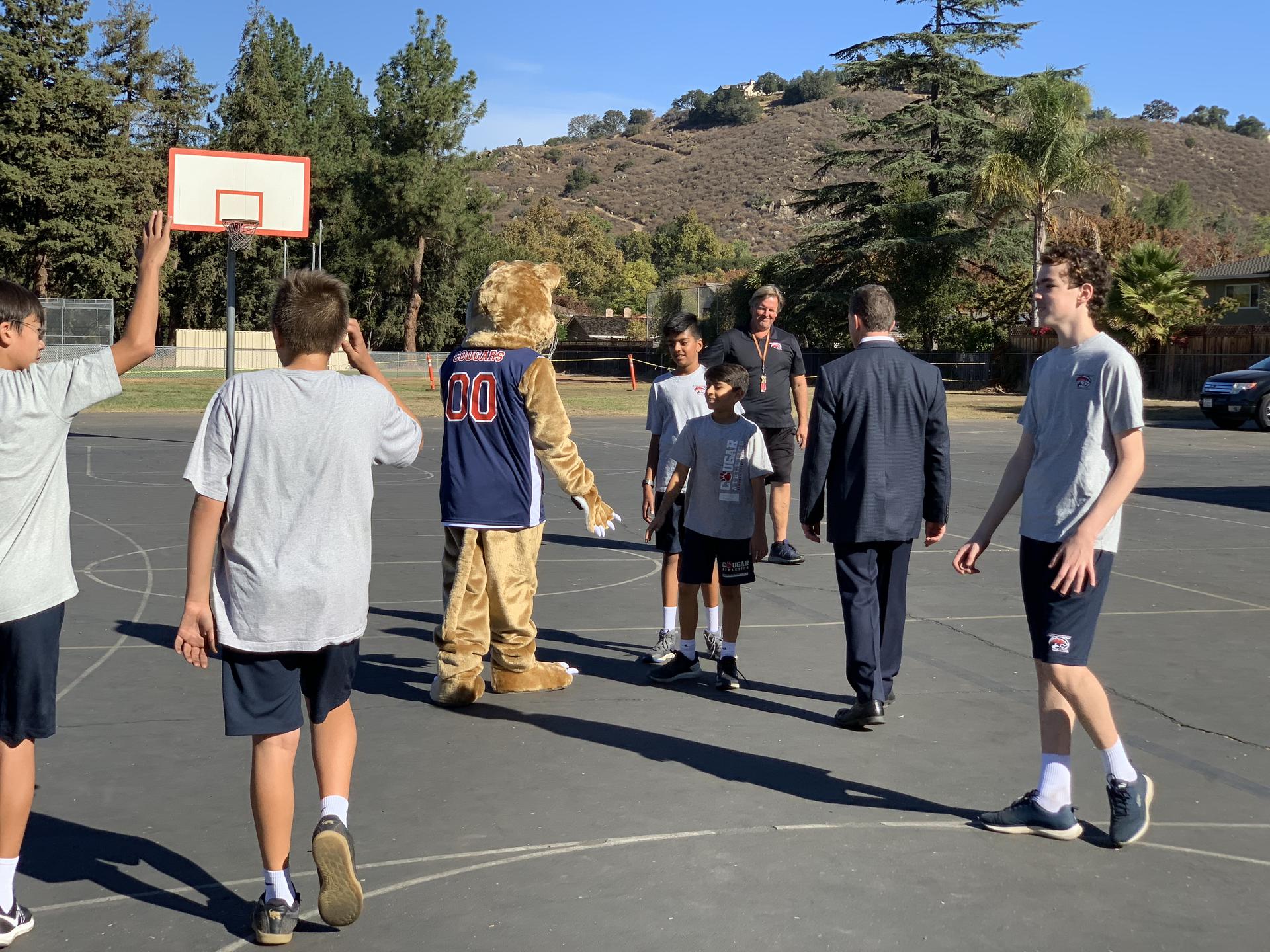 Social Distancing with Captain Cougar in 2018

A LETTER FROM THE HEAD OF SCHOOL
Dear Alums,
Summer is here, and despite the constraints of physical distancing and the County's shelter-at-home order, we celebrated the graduation of the Class of 2020. While some area schools provided an online commencement and others hosted some form of a limited in-person event, ACDS did both in a four-step celebration:
Teams of staff members fanned out and quietly staked congratulatory yard signs in the gardens and lawns of 44 Class of 2020 homes

Next, we hand-delivered gift bags and gowns to each graduate's house, pausing for photos (often with the yard signs!)

We welcomed every family, one at a time, for a diploma ceremony on campus featuring the world's smallest stage, a raucous team of staff well-wishers, photo ops with our mascot, Captain Cougar, and a yearbook for every grad

At the appointed graduation time, families tuned in to a pre-recorded YouTube ceremony capturing all the ACDS graduation staples: a student leading the Pledge, a student speech and head of school remarks, the Class Gift (a new wired podium for the Event Center), tributes to the students and teachers, recognition of each graduate, the Apple Tree-o singing "Wherever You Go," and the presentation of the Class of 2020.
While it was unlike any graduation ceremony in school history, it was still fun, festive, moving, and very much "ACDS."
On a somber note, I also want to let you know how ACDS plans to mobilize after the senseless death last month of George Floyd, an unarmed Black man. As you are well aware, this latest tragedy in a 400-year-old succession touched off a new phase in our national reckoning about justice and society.

Since 2015, the ACDS faculty has worked with a Bay Area DEI consultant to develop and implement a diversity, equity, and inclusion (DEI) program. We've engaged each school year in workshops examining identity, bias, privilege, social justice, and more, with the aim of deepening our cultural competency and in turn supporting the children and families we serve.

But our work is far from over. As I've shared with the staff and parent community:
We must continue to learn how to confront and dismantle invisible biases and prejudices within ourselves.

We must pay more attention and create more space for the voices and experiences of people of color in our curriculum.

We need to more intentionally help our children understand, relate to, and empathize with people of different backgrounds and belief sets, within and beyond our own community.

We must give children the opportunity to connect their learning and caring with thoughtful and meaningful action, and we need to model the same behavior ourselves.
Among the school's responsibilities is preparing children with the knowledge, confidence, values and skills they'll need to construct and lead a better, more just world, because that is what everyone deserves.

We all know there is a lot of work ahead to accomplish this, and we intend to do our part. I've called our families and faculty to rise together and empower ACDS students to confront racism, oppression, and injustice anywhere they encounter it. If you are interested in learning more about DEI at your alma mater, please get in touch with me.

Meanwhile, enjoy this issue of the alumni newsletter, and I wish you a safe, rejuvenating summer ahead.
Dr. Olaf Jorgenson
Head of school
CONGRATULATIONS TO THE CLASS OF 2020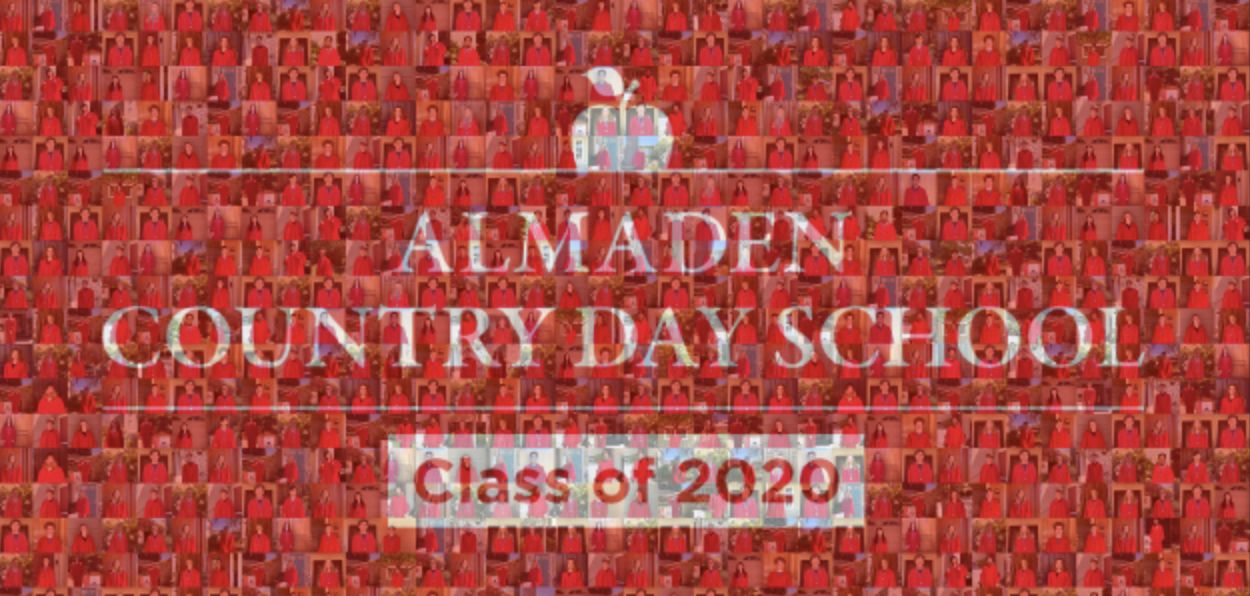 MORE EDUCATIONAL MILESTONES
The members of the Class of 2016 will start their college careers this fall, while members of the Class of 2012 are graduating. Visit these pages for additional information:
Congratulations on your academic achievements!

Coach D was deeply loved by the ACDS community. Tributes poured in from everyone who knew her. A special page has been created for them, but these are some of the things alumni have shared:
"My heart is filled with not only all that she taught each of us but how she made us feel... loved, cared about, important and smart. She truly had a magical way to help teach math more tangibly to students who had feared certain math concepts in the past. It was through a hands-on card game that included earning chocolate where I remember truly learning and understanding a negative number concept she was trying to teach. A concept that had seemed so foreign became real after learning this game..."
Vanessa Makinster Galante '99
"She was not only one of the best teachers I had, but a close friend. I always knew, as a friend, she cared about me. I remember going over to their house and she always made time for "Jimmy and Jennifer" time - always asking how I was doing and what was going on in my life. She was like a second mom to me."
Jim Green '04
"I didn't call her, "Favorite Teacher!" for just any reason. By the end of my time at ACS I realized she was my favorite teacher because of the way she treated me. She was kind, respectful, fair, funny, and genuine. She didn't put up with any nonsense, but she also wasn't strict. She didn't need to be. Everyone I knew loved and respected her as a teacher."
Ashley Ahlgren Lessing'09
"Coach D always greeted me with a big smile and a warm hug. With her loud and enthusiastic welcome, I always felt comfortable and appreciated in her classroom. She always found a way to make difficult math problems fun, and taught me to have confidence in myself and my abilities, no matter what."
Juliette Jorgenson'16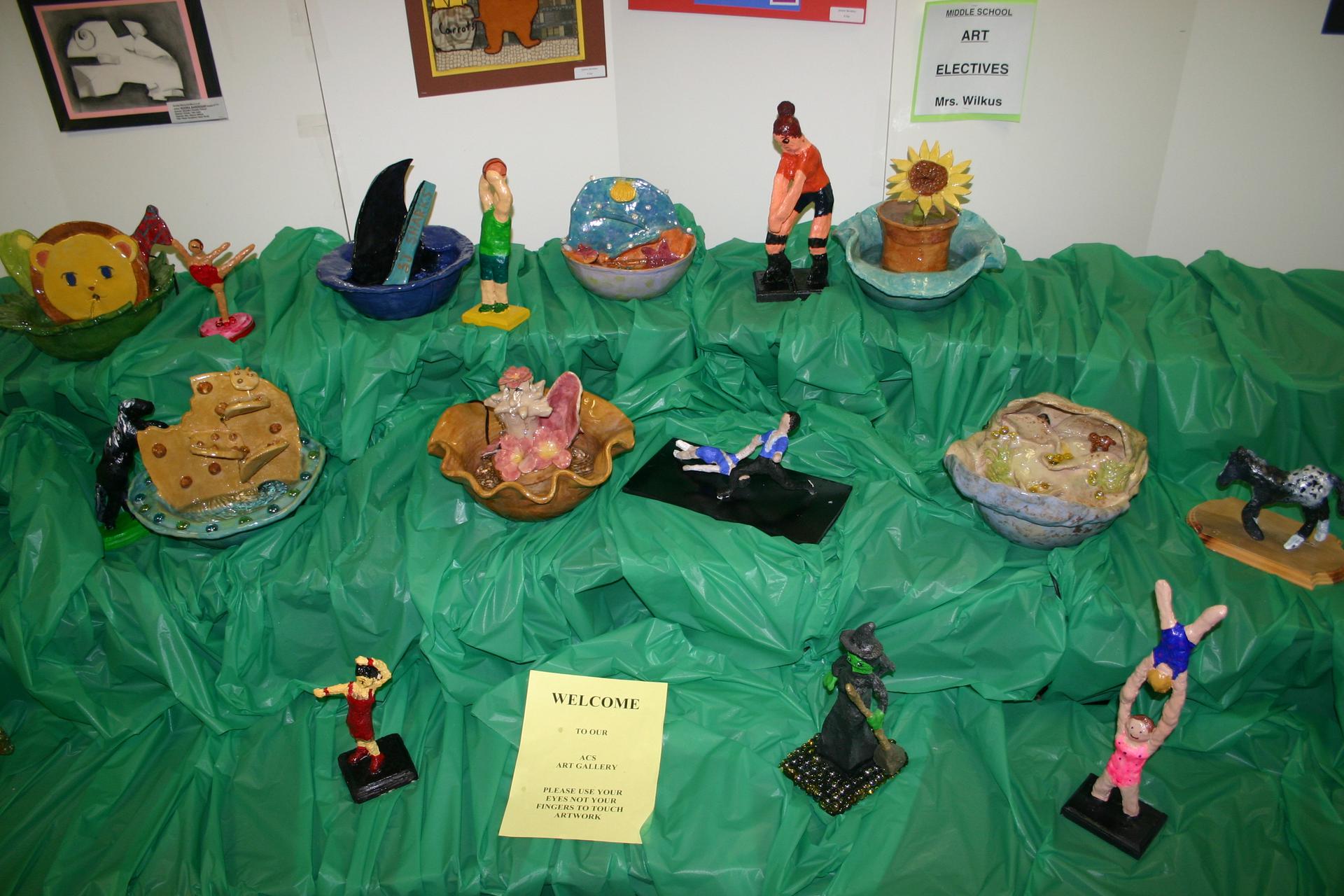 Art Elective Display from 2009
This year, the ACDS Talent Showcase went virtual. Students submitted videos of themselves performing for the whole school to watch. This innovative format made it possible to feature talents that don't lend themselves will to the stage.
Ian Leonard, our Student Life Co-Coordinator and Theater Arts Teacher, tells us how this special event kept ACDS traditions alive: "During an unprecedented time at ACDS, we wanted to offer as many of the annual traditions as possible. Certainly, what's Spring at our school without some kind of Talent Showcase?!? The only question, I think, was, 'Would people still want to participate, if only through video submissions?' And that question got answered as soon as we sent out the notice. My inbox filled up with all of these wonderful videos, and what was really fun is that I think it appealed to some people who might not have participated otherwise. From Junior Kindergarten to Staff - whether showing us how to make spaghetti or demonstrating a newfound tree-climbing hobby - it was just an awesome way to get back in touch with one another. During a stretch of months that's caused everyone to feel scattered, it was a lovely opportunity to reconnect with our ACDS family."
Take a break from Netflix and watch future alumni in the Talent Showcase. Each episode is about fifty minutes long.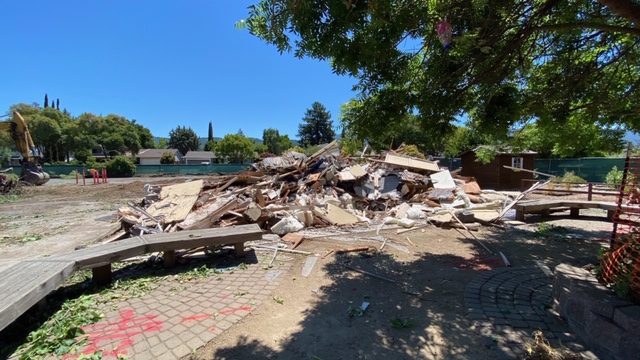 Locker Rooms Demolished for the Event Center

In this Event Center Update, we'd like to share the news that we broke ground on June 24, 2020 and construction has begun!
This has been a journey many years in the making and has included many hurdles along the way. The time is right for us to charge full steam ahead. We've received all of the necessary approvals, and are very fortunate to begin the project when interest rates are at an all-time low.
Gene Cook, ACDS Board Chair, has this to say, "This is a remarkable milestone for ACDS and our special school community--not just for all that it will mean for the students in the future, but also because of the incredible work, shared vision, and passion people have brought to date to make it possible. Everything about the project embodies Almaden Country Day School values, and we'll look forward to celebrating as a broader family when we cut the ribbon in late 2021."
We'll share more details about how we'll celebrate and how you can get involved in future issues.
Megan Cronan '05 attended ACDS from the 4-year-old program through 8th grade. After attending Presentation High School, she graduated from Santa Clara University in 2013 with a degree in civil engineering. She is a Professional Engineer (PE) and received the American Public Works Emerging Leader Award.
Megan currently works as a senior civil engineer for HMH, a land development and engineering company in San Jose. Megan was the project civil engineer on the Westfield Valley Fair mall expansion and was recently selected as the project manager for the VTA Phase II Bart Extension, which includes, among other things, four stations and a five-mile tunnel.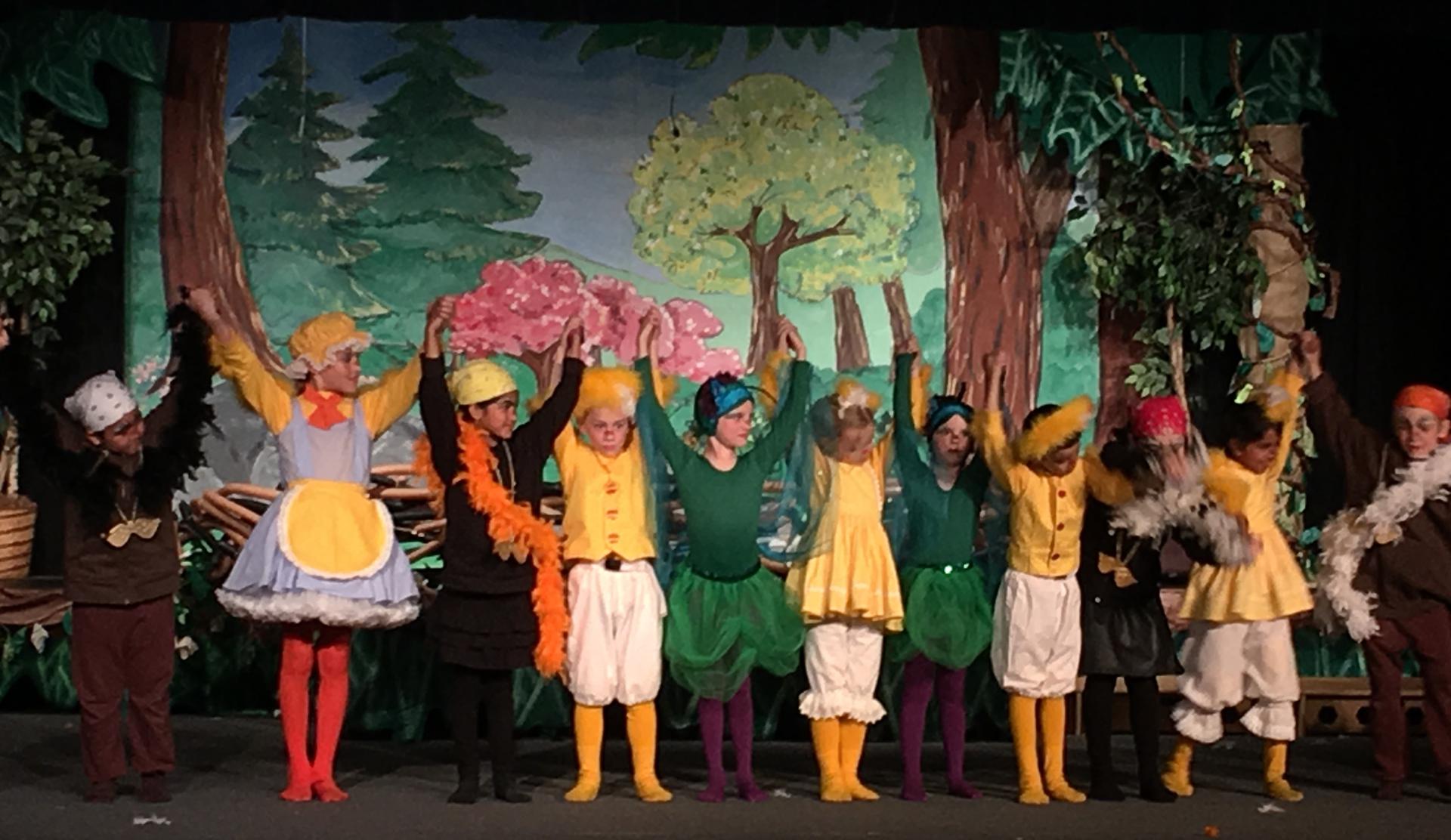 Members of the Class of 2022 in 'Birds'

Visit the links below for updates from fellow alumni.

Anusha Praturu
Haley Weiner
Anoop Praturu
Margarita "Titti" Bassi, Natalie Drucker, Sidney Fryhoff, Danielle Knell, Mackenzie Knox, Joshua Vincent, Erin Weiner
Ryan Baum, Taylor Bazella, RJ Cho, Connor Cormier, Aaron Fenton, Julia Hayden, Jaden Hochroth, Juliette Jorgenson, Katelyn Lohbeck, Nick Maranowski, Zach Marks, Kait McLaughlin, Alex Muret, Gabriella Pace, Tom Patterson, Maxine Ribbs, Aaron Rossi, Sidd Sabata, Weston Snyder
Do you have news you'd like to share? Complete our Alumni Form and we'll include it in the next Alumni Newsletter.